Democrats call for more subpoenas
China Daily | Updated: 2019-10-04 09:38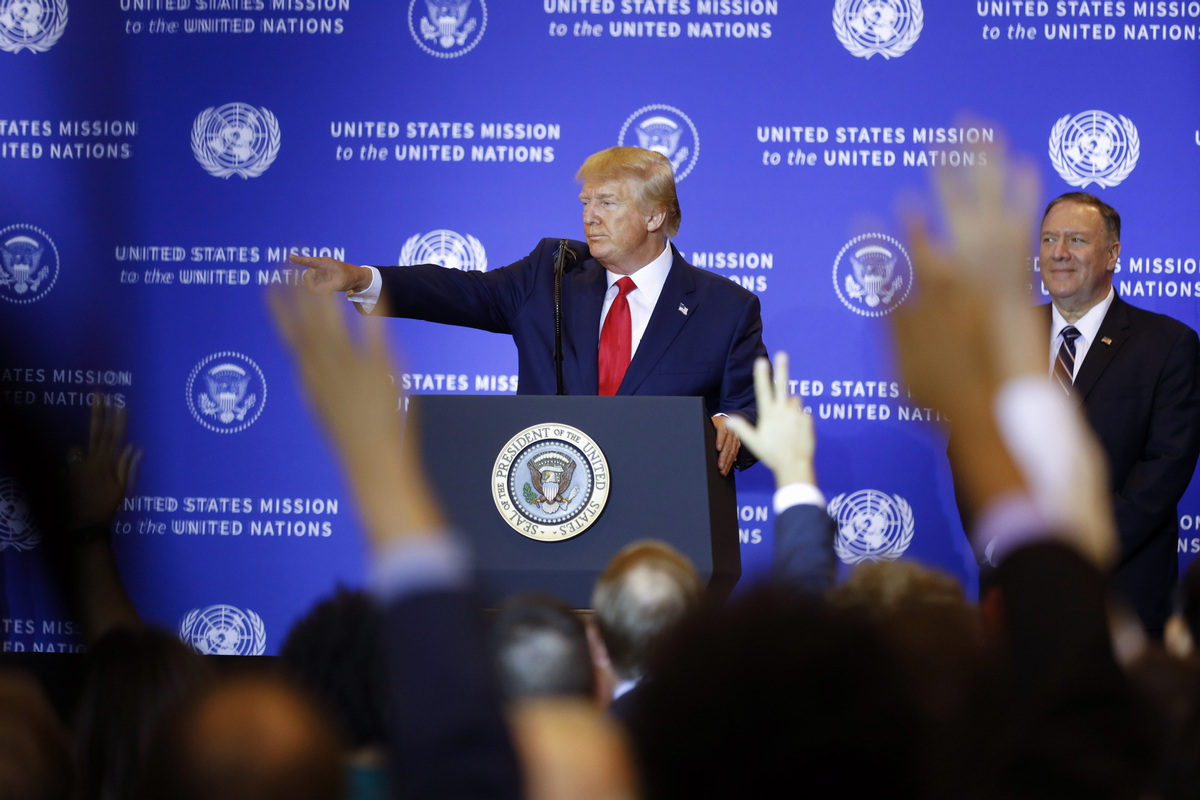 Lawmakers answer Trump's ire as Pelosi says the president is 'scared' of inquiries
WASHINGTON - Agitated and angry, US President Donald Trump squared off against House Democrats, packing his increasingly aggressive impeachment defense with name-calling and expletives. Quietly but just as resolutely, lawmakers expanded their inquiry, promising a new subpoena requiring documents and witnesses at hearings.
Democratic leaders put the White House on notice that the wide-ranging subpoena would seek information about Trump's actions in the Ukraine controversy, the latest move in an impeachment probe that's testing the Constitution's system of checks and balances. They said they'd be going to court if necessary.
Amid the legal skirmishing, Wednesday was a day of verbal fireworks.
Trump complained that House of Representatives Speaker Nancy Pelosi was handing out subpoenas "like cookies", railed against a government whistleblower as "vicious" and assailed the news media as corrupt and the "enemy".
Pelosi said Democrats had no choice but to take on the most "solemn" of constitutional responsibilities to put a check on executive power after the national security whistleblower's complaint. The whistleblower, an executive branch security official, reported the details of a July phone call the president had with Ukrainian President Volodymyr Zelenskiy in which Trump pressed for an investigation of Democratic political rival Joe Biden and his family.
"We take this to be a very sad time" for the US people and the country, Pelosi said. "Impeaching the president isn't anything to be joyful about".
Standing beside her, intelligence committee Chairman Adam Schiff accused Trump of "an incitement to violence" with his attacks on the unnamed whistleblower, who is provided anonymity and other protections under federal law. He said the investigation is proceeding "deliberately" but also with a sense of "urgency".
Schiff said: "We're not fooling around here."
Pelosi, in an interview with the Good Morning America TV program scheduled to air on Thursday, said Trump is "scared" of the impeachment inquiry and the arguments that can be made against him.
Ahead of the new subpoena, the chairmen of three House committees accused the administration of "flagrant disregard" of previous requests for documents and witnesses and said that refusal could be considered an impeachable offense.
The standoff took on a defiant tone this week when US Secretary of State Mike Pompeo said he would not stand for Democrats "bullying" his employees into appearing before the congressional committees, even as he acknowledged that he, too, had been among those US officials listening on the line during the Trump's phone call with the Ukraine leader.
Pompeo's admission is complicating his situation, and House leaders now consider him a "witness" to Trump's interaction with Ukraine, according to The Associated Press.
One former State Department official, Kurt Volker, who resigned last week as special envoy to Ukraine, was scheduled to appear on Thursday for a closed-door interview with House investigators. He is said to be eager to tell his side of the story. That's ahead of next week's deposition of veteran diplomat Maria "Masha" Yovanovitch, who was abruptly recalled as ambassador to Ukraine in May.
Meanwhile, Biden assured supporters on Wednesday night that his message to Trump is "I'm not going anywhere" as he laid out his most forceful pushback yet to Trump's baseless attacks.
In a rebuke of Trump's dealings with Ukraine, the former vice president said during a 20-minute speech at a rally that he's not surprised Trump asked a foreign government for help to defeat him.
"Let me make something clear to Trump and his hatchet men and the special interests funding his attacks against me - I'm not going anywhere," Biden said to loud cheers.
"It's not about Donald Trump's antics. It's about what has brought Donald Trump, and the nation, to this sobering moment in our history - and to the choice facing us in 2020," he said. "What has brought us here is simply this: the abuse of power."
Agencies